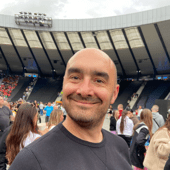 James Conway
Director of Technology – Technology
I've been at tombola for 10 years now. I joined tombola as a web developer. Back then .Net 4 was still cool and the cloud was just a fancy term for someone else's computers. 
I've been lucky enough to have seen a significant progression of tech at tombola and this is one of the main things I love about working here - genuine innovation and appreciation for modern tech.
I'm also extremely lucky to be able to work in a team with such a diverse set of skills and capabilities. Developers, designers, animators, testers, cloud engineers, product and project managers, data engineers and infosec analysts. All working together to build a cloud native gaming platform that allows us to design and produce unique and industry leading games that entertain thousands of players every day across 6 different countries.
When I'm not doing PowerPoints about tech, you can normally find me outdoors with my wife, 2 daughters and dog. I also have way more bikes than the number of miles I cycle requires.